100+ Surprising Video Marketing Statistics You Should Know in 2022
Video is the new king of content.
With 93% of marketers using video marketing in their overall marketing strategy, the share of video in the marketing pie has increased manifold over the past few years.
Besides, the focus of social media companies on releasing video content tools has also strengthened this trend.
For marketers who have second thoughts about investing in video marketing, we have covered the latest trends reported by several studies in this article.
These stats will help you know how video marketing influences customers.
Here we go!
Common Video Marketing Statistics
1. According to Statista, the amount spent on video marketing will reach $92.253 billion in 2022.
2. Video marketing is the fastest-growing type of marketing in digital advertising.
3. In 2022, video content will make up for 82% of the internet traffic.
4. Viewers claim they retain 95% of the information given in the form of videos.
5. A study from Hubspot shows that 54% of video consumers are willing to see video content from their favorite brands.
6. More than 78% of viewers consume video content every week, and 55% of them engage every day.
7. OptinMonster found that 72% of consumers prefer to learn about a product or a service through video content.
8. Webinars are the most common types of business-related video.
9. Marketers land 66% more qualified leads through video marketing.
10. WordStream reports that adding a video on the website's landing page can increase conversion by 18%.
11. Another study noted that adding video on the webpage increased the average time spent.
12. Since 2016, the number of businesses using video content for marketing has increased by 41%.
13. A study by Wyzowl shows that 87% of marketers claim they are happy with the ROI obtained from video marketing.
14. Marketers using video marketing made revenue 49% faster than organizations not using video marketing.
15. If text and video are available for a topic, 95% of executives say they would prefer to make a video on that topic.
16. Videos on social media get 12 times more shared than text and images combined.
17. Currently, 86% of businesses utilize videos as a marketing tool.
Video Consumption Statistics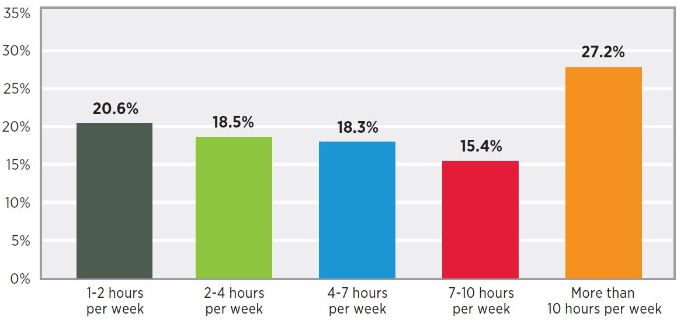 18. According to WorldStream, 33.33% of all online activity is video consumption.
19. Every week, people spend 18 hours watching videos online.
20. As per Think with Google, 60% of viewers prefer watching videos online rather than on television.
21. Wyzowl observed that 98% of the viewers watch videos explaining the product or service.
22. Around 84% of video consumers claim they decided to buy a product or service after watching a brand's video.
23. Research conducted by Limelight shows an increase in online video content consumption across all age groups, and the most significant increase was observed among people over 46 years of age.
24. Social Media Week reported that 75% of people prefer watching videos horizontally on their mobile devices.
25. More than one billion hours of videos are viewed on YouTube daily.
26. Globally, more than 75% of videos are consumed via mobile devices.
27. Majority (87%) of videos related to the business are viewed from a desktop.
28. A survey by Verizon & Publicis found that 92% of the participants watched videos with the sound off, and about 50% relied on captions.
29. Videos that had a duration of 90 seconds or less had a retention rate of 50%.
30. 92% of the videos viewed from mobile devices are shared with others.
Social Media Video Statistics
We have divided video marketing statistics for social media into different categories. Let us start from general social media video statistics.
31. Social media videos are viewed 48% more than other platforms.
32. A research by Hubspot shows that 17% of marketers include live videos on social media platforms as a part of their marketing strategy.
33. Among all the social media channels, YouTube is preferred by 88% of marketers for uploading videos.
34. The Global Web Index 2021 suggests that 16% of social media users prefer watching vlogs for researching products.
Social Media Video Statistics for YouTube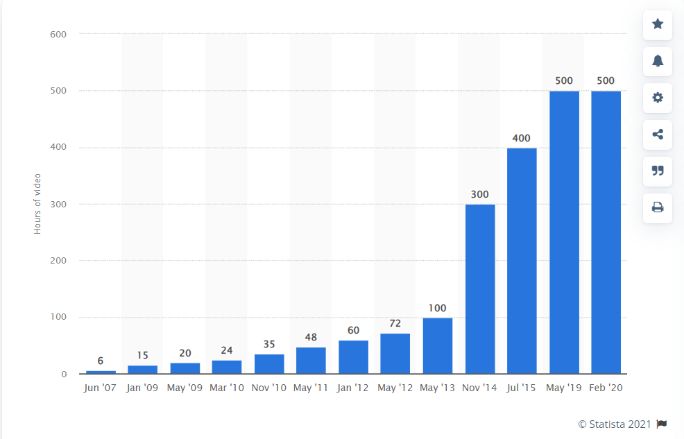 35. More than 500 hours of videos are uploaded on YouTube daily.
36. 70% of YouTube videos are consumed through mobile devices.
37. YouTube is the most preferred channel for consuming videos for about 67% of the viewers.
38. On average, the time spent daily by a viewer on YouTube is about 17 minutes.
39. According to Think with Google, 40% of people have purchased a product that they discovered on YouTube.
40. More than 50% of social media marketers create content for YouTube.
41. YouTube helps about 90% of the viewers to discover new brands or products.
42. People consuming videos on YouTube through their mobile devices pay two times more attention to the content than the television viewers.
43. 62% of search results on Google include videos, of which 80% are from YouTube.
44. YouTube ads viewed on mobiles get 62% more attention than TV ads.
Social Media Video Stats for Facebook
45. More than 8 billion videos are viewed on Facebook daily.
46. On average, Facebook users spend 26 minutes per day watching videos on the platform.
47. Socialinsider noticed that Facebook accounts with over 100K followers have 71% of video content posts.
48. Videos that can be watched vertically on mobile devices showed the most engagement on Facebook.
49. More than 500 million people watch videos on Facebook.
50. Facebook video ads are used by more than 73% of marketers to promote their products or services.
51. The conversion rate is highest for Facebook video ads with a duration of 16 to 20 seconds.
52. Viewers can remember Facebook video ads by companies 23% more if their names appear within the first 3 seconds.
Social Media Video Stats for Instagram
53. The time spent watching Instagram videos has increased 80% since 2017.
54. A study by YetPo revealed that 30% of Instagram users purchased the product after discovering it from the platform.
55. Around 77% of marketers create video content for IGTV.
56. Studies have found that 79% of new customers acquired by brands or businesses were through Instagram.
57. Marketers also claim that Instagram stories have helped them to acquire 73% more customers.
58. About 70% of users swipe up to follow the links mentioned by brands on their Instagram stories.
59. A study also proves that Instagram posts get two times more engagement than the other posts on other social media platforms.
60. Usage of stickers on Instagram stories can boost engagement by 83%.
Social Media Video Trends for Linkedin
61. Video content is the most shared post on Linkedin.
62. Around 80% of Linkedin users prefer watching videos with sound off.
63. According to research by Wyzowl, 38% of marketers create video content for LinkedIn, out of which 75% claim it was a success.
64. Live streams on Linkedin can generate more engagement than published videos.
65. Videos on Linkedin that are between 30 to 90 seconds have shown the best results for businesses.
Video Content Marketing Stats on Ad Spending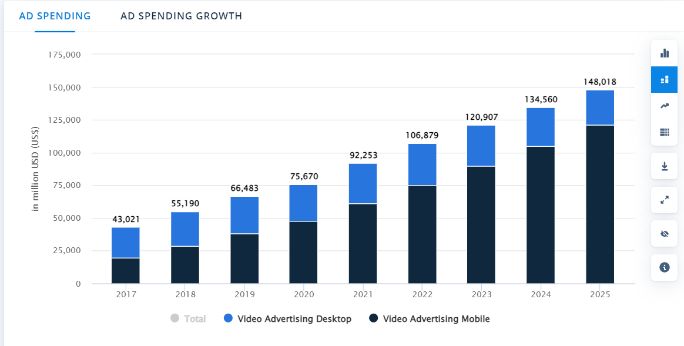 66. Video ad spending is expected to reach $456 billion by 2025.
67. In 2020, digital video ad spending was reported to be $9.95 billion from the United States alone.
68. Wyzowl noted that 78% of marketers observed an immediate increase in sales by using video marketing.
69. Every year, marketers are increasing the budget for video marketing by 25%.
70. In the United States, the video marketing industry is worth $135 billion.
71. Another stat by Wyzowl shows 82% of the digital video marketers generated leads through video content.
72. According to Forbes, call-to-actions are more effective in video content.
Post-Pandemic Video Marketing Trends
73. Video content was one of the industries that saw minimum damage after the pandemic hit.
74. A survey also showed that 61% more Gen-Z and Millennials were watching video content during the pandemic.
75. The research by Wyzowl put forward that 91% of marketers claim video content has become more relevant than ever for brands and businesses in this era of the pandemic.
76. In 2020, about 24% of marketers tried video marketing for the first time.
77. After the pandemic, 70% of marketers plan to increase their video marketing budget.
78. Due to the pandemic, 74% of the marketers were forced to rely on video marketing strategy.
79. The study by Wyzowl shows that because of Covid, plans of 92% of marketers were affected.
80. More marketers are going to utilize video content for marketing in the coming years.
General Statistics for Video Marketing
81. Video content has been said to have the best ROI by 51% of marketers among all the forms of content.
82. As per a study by Vidyard, marketers achieved a 34% higher conversion rate by including video content in their marketing campaigns.
83. Due to explainer videos, 43% of the marketers say that customer support calls have decreased.
84. The organic traffic can be increased by 157% with the help of video content.
85. Video marketing is used by 71% of B2B marketers.
86. Emails that contain video content in them get 96% higher click-through rates than emails with no video content.
87. The email subject line with the word "video" has a 19% more open rate than other subject lines.
88. Emails with video content are preferred by 54% of the subscribers.
89. About 12% of marketers want to incorporate virtual reality (VR) technology in their video marketing strategy.
90. The most common types of videos created by businesses are explainer videos.
91. Adding video content on full-page ads can increase engagement by 22%.
92. Advanced video analytics software is used by 35% of businesses to measure the performance of their video content.
93. Companies using advanced video analytics are more likely to increase the budget for video marketing.
94. Businesses that created more than 50 videos in a year grew by 46% in 2020.
95. Businesses that use video content on webpage increase their chances by 53 times to appear on the first page of Google search.
96. About 43% of the marketers claim they would create more business videos if more resources were available.
97. Explainer videos were watched by 96% of the customers to understand the product better.
98. Video marketing was included in 46% of marketers' strategy because they believe creating video has become more affordable.
99. Some studies claim that the audience will halt their work to watch a video.
100. 360-degree videos were used by about 14% of the marketers.
101. 360-degree videos were a success, claims 74% of the marketers.
102. Interactive videos are used by just 2% of marketers.
103. More than 90% of the interactive videos are viewed till the end.
104. Entertaining video content can boost the purchase intent by 97%.
105. Demo videos are preferred by about 12% of customers.
Finally..
The above statistics show that video content has helped businesses to increase sales and reach. But it also becomes essential for you to choose the right tools to analyze the performance of your video efforts.
Especially managing and tracking the posts for your video content on social media is one important task. But, what if you get some assistance there?
SocialPilot provides analytics to manage your social media campaigns across multiple platforms. It has several features like performance analytics, schedule management, team and client collaboration, unified performance dashboard and more.
To know what more you can do with SocialPilot, schedule a demo with us today.
How to Use Meta Business Suite
Looking for an all-in-one tool to improve Facebook business page management? Wondering how to set up Meta Business Suite for your team? In this article, you'll learn how to use Meta Business Suite so you can manage your organization's Facebook business page and Instagram account more efficiently. What Are Meta Business Suite and Meta Business […]
The post How to Use Meta Business Suite appeared first on Social Media Examiner | Social Media Marketing.
How to Start a YouTube Channel for Your Business
How to Optimize a Google Business Profile Listing
Marketing is a crucial component of every business. As trends change, more options become available for promoting your business.
Most notably, a social media presence has grown into a must-have for businesses due to its ability to reach potential customers. There are currently 4.48 billion users on some form of social media!
You have already created your marketing plan and included Twitter, Instagram, Pinterest, and Facebook. You are further optimizing your site for SEO, and your Facebook ads are pulling in new visitors each week. But there's one place you may have neglected.
Have you checked out Google Business Profile (GBP) yet?
If you haven't heard of GBP, I bet you have seen it. As you enter a search on Google for "plumbers near me" or "dentists in Maryville," a box appears on the right. There you see a picture, address, and buttons for a company that meets your search. That is GBP!
Your listing is tied to Google Maps and provides a map to your business. It is included in local searches and can help with your ranking.
Is GBP the Right Fit for your Business?
Many businesses are not fully utilizing the power of this platform. Firstly, having a GBP listing is absolutely essential since potential customers will probably discover you on Google only. But before going ahead, you must make sure whether your business is eligible for a listing or not. For that, take a look at the type of companies the listing option is available to:
Physical business locations: Their customers visit these locations to use or buy your products.
Mobile businesses: They go to their customers but have an office that customers can visit. (ex: plumber, heating, and AC services).
Individual practitioners: They have a physical office and provide a service such as a realtor or a lawyer.
Service area businesses: These are like mobile businesses but offer onsite service and travel to customers.
This is a free amenity that assists with local searches, so there is no downside to doing so. It's time to complete your listing and start getting discovered by the right people!
8 Steps to Optimize your GBP Listing
Google changes its algorithms regularly, but it is also updating and adding to Google Business Profile. For local businesses, adding and then optimizing your listing is yet another tool in your marketing arsenal.
Here's a step-by-step guide on how to optimize your GBP listing and use this social platform to dominate local marketing.
Step 1: Fill Out Key- Information
This Google Business Profile is the reflection of your business. So just creating one is not enough. It should have all the necessary details available to make people take notice.
These key pieces of information include
A proper name for your business
Address
Phone number
E-mail address
Website URL
Hours of operation
These are the first things your audience will see. If any of them are missing from the listing, it will raise doubts in their minds about the authenticity of your business. This will lead to them moving on to the next one in the list and not taking any action.
So, to get those leads and conversions, your basics should be meticulously covered.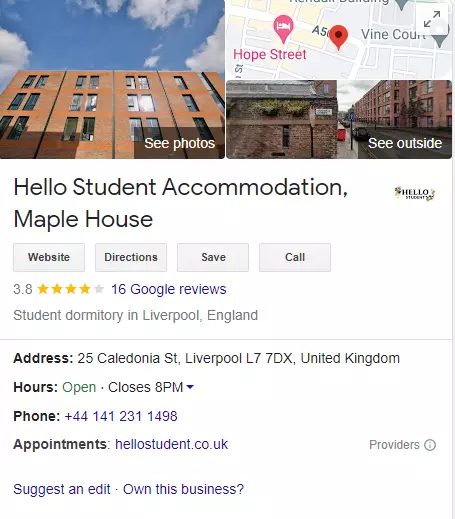 Step 2: Get Your Listing Verified
Now that you have created your listing, you must get it verified by requesting your verification code. The most common way is for Google to send you a postcard in the mail, which includes a code.
Then, enter the code on your GBP account and edit any information.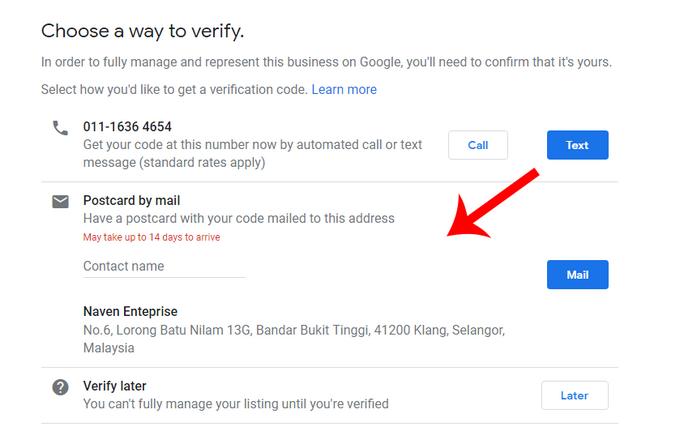 Phone verification is available for some businesses. These will receive a phone call from Google on their business number. If you are on Google's Search Console already, then your location should be verified instantly.
That's it. Sign into your account on GBP, select "website," and then "publish." Done.
Step 3: Add Keywords
Keeping your listing simple is the easiest but not the most effective way to handle this new platform. Use your SEO skills and think about the keywords people would use to find you. Add these to your title and in the description.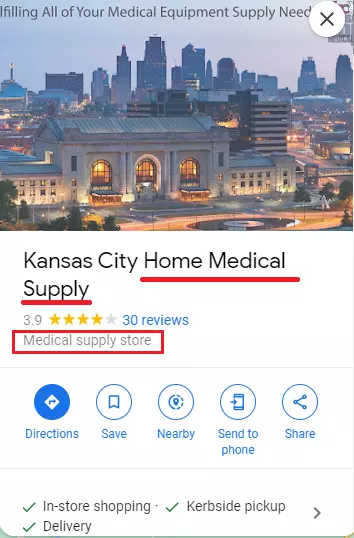 Check the character count and guidelines for assistance.
Step 4: Specify Your Hours of Operation
How many times have you seen a business that doesn't list its hours front and center? That is more than frustrating to potential clients; it can be deadly. With a single click, that customer will easily find the next business that does include their hours. Consider seasonal and holiday hours and update those as necessary.
Step 5: Add Photos to Your Posts
Another important factor is providing a clear, appealing picture of your business. This needs to be JPG or PNG with a size between 10KB-5MB. The minimum resolution is 720 px by 720 px.
Step 6: Add Other Visuals
Don't stop with a picture. Include your company's logo, add additional photos of the inside, or even include a short video. The file size needs to be under 100 MB with a resolution of 720p or higher. Keep its length to under 30 seconds.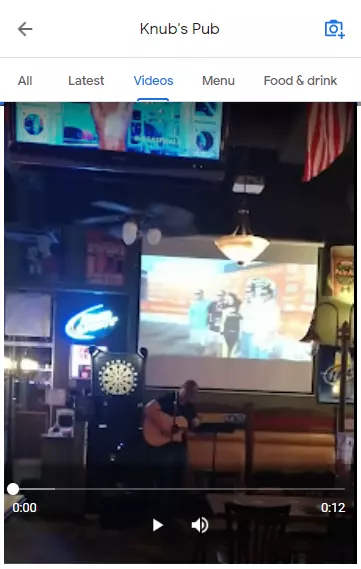 Step 7: Choose the Right CTA
Check out the variety of buttons Google includes. You can add a shortcut to book an appointment or send a text message. Depending on your company, you may also have a "Service" button. Here, you can use those keywords again to describe what you provide. Include as many appropriate options to make it easier for someone to interact with your business.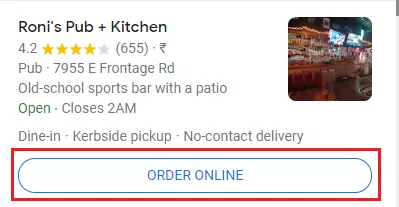 Step 8: Add Q&A Section
Google also offers a Questions and Answers section. Readers can post their questions, allowing you to interact with them by responding.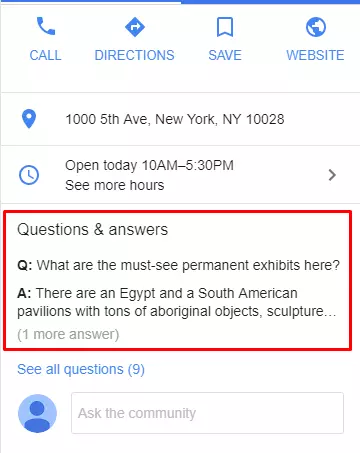 This is another opportunity for your company to stand out. In fact, 25% of locations have unanswered questions listed. Be the company that responds promptly.
Tips for Making Your Listing a Success
I have covered the basics for your Google Business Profile listing, and now let's boost your online presence with a few more tips and tricks. While some may be time-consuming, consider the outcome.
1. Reviews
Similar to other sites, reviews can be posted on your listing. Start by approaching a few satisfied clients and requesting their feedback. You may be surprised at how many agree to do so – 68% of customers write a review when asked.
Then, develop a plan for getting more feedback whether by reaching out to several old customers or creating an email for first-time customers.
Getting the reviews posted is the first part. The next part is responding to these. Post a few lines to each review by thanking them. You can also address any concerns here. This visible interaction is beneficial to your online reputation.
97% of clients read local business reviews, so don't miss out on this opportunity to engage with your customers.
Leaving customers' queries unanswered can cost your business dearly! Do you want to know an efficient way to manage questions and reviews of multiple GBP accounts?
Use SocialPilot's Google Business Profile's Inbox feature to access all the reviews and questions from your audience or any potential customers. Respond instantly to engage with your audience, as that's the key to boosting your brand's reputation.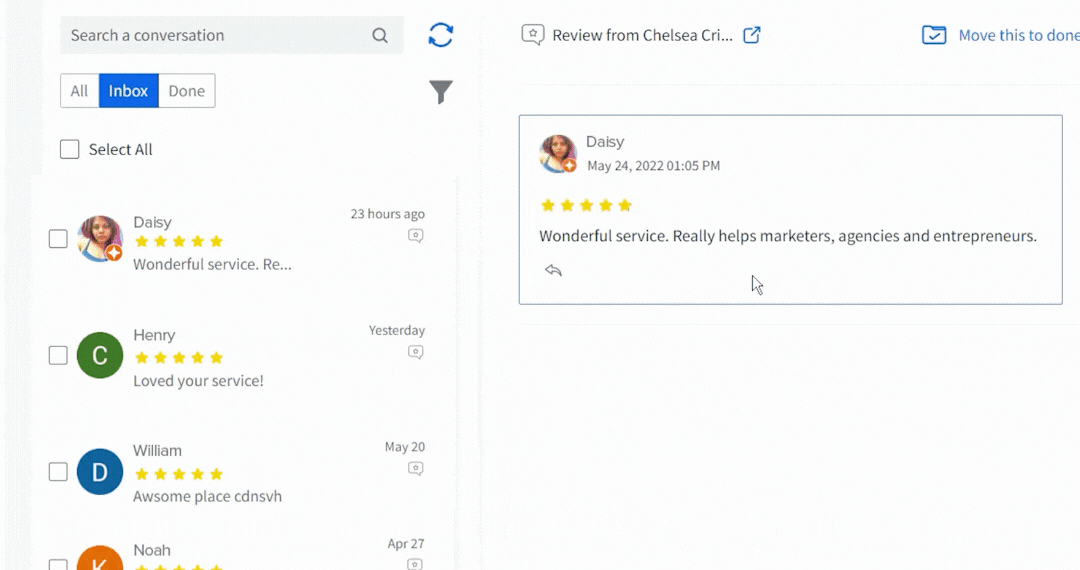 2. Posts
Only 17.5% of companies had created a post on their listing within the last week, according to one study. In the social media realm, 7 days is an eternity. And GBP is not much different from a social media platform, but exclusively for businesses.
So just like with the other platforms, keep current with your postings. Schedule a day or time when you will add to your listing. You can post pictures, helpful tips, current promotions, or other useful information for your clients.
To keep this simple, try using a Google Business Profile scheduling tool such as SocialPilot. With this tool, you can create a bunch of posts and schedule them to be published on various dates. These can be posts about a special offer for Christmas or a summer sale in June.
Create the posts now, save them in your queue, and move on to other tasks. If your dates change, you can easily re-schedule them within your social media calendar.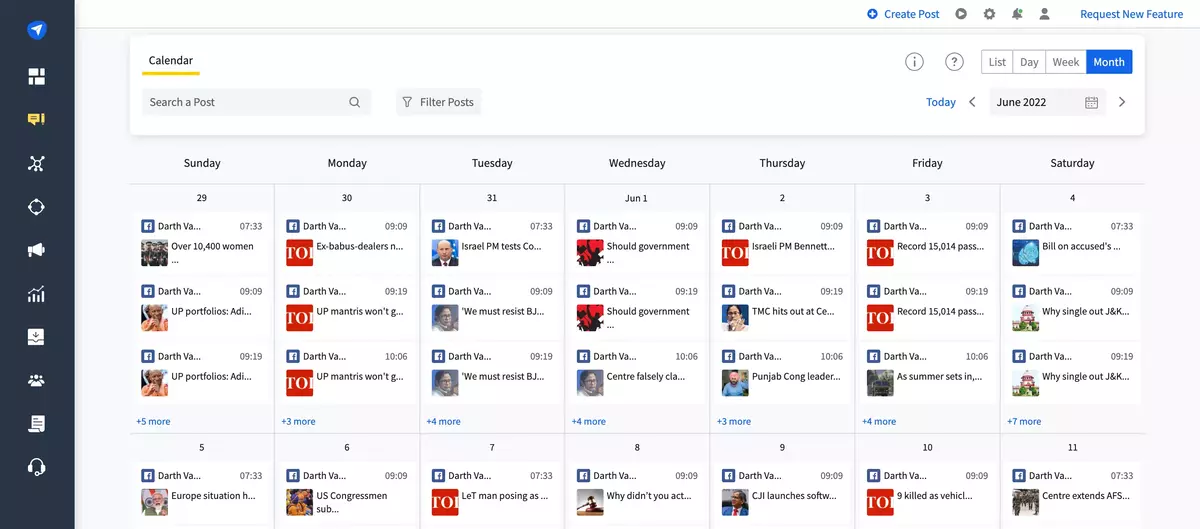 If you find articles or pictures that your customers have shared on social, you can use them in your upcoming posts with SocialPilot's browser extension. Just use the extension to create and schedule a post for that content.
Posting regularly lets your followers know what to expect, but that is not all. Social media accounts are a vital way to bring brand recognition and loyalty for your company. Also, they are an easy, and inexpensive, way to interact with clients. You will raise your SEO rank and increase traffic when you post useful content that your customers enjoy.
However, it can be time-consuming to work on this each day. When you delegate the tasks to a tool that schedules and posts for you, you free up valuable time.
Try different images, emojis, and types of posts, and then see what your ideal customers prefer.
3. Analytics
While using social media is a crucial part of marketing, you will lose out on the opportunity to maximize your potential if you neglect to analyze your data.
This doesn't need to be complicated. Each social media has its own set of data, and GBP is no different. Social media metrics tools like SocialPilot track a variety of measurements to see how your listing performs.
Does your typical customer engage with your website or head straight to the map? Did they post reviews on competitors' services? How did they first find you online?
These questions and their answers help you understand the customer's journey. More importantly, they also highlight areas that need improvement. By checking out the data in SocialPilot's Google Business Profile analytics reports, you can adjust your posts quickly.
Curious? Check out this sample Google Business Profile analytics report to see the kind of insights you gain.
Ben Fisher, an SEO expert, researched Google Business Profile and analyzed the results from 2,000 companies.
He summed up his findings by saying, "Google Business Profile (GBP) is one of the most powerful ways to improve a business's local search engine optimization and online visibility. If you're a local business, claiming your Google Business Profile is one of the first steps you should take to increase your company's online presence."
Conclusion
Google Business Profile, when used strategically, can bring you a lot of customers and clients. Adding your information is simple, and then you request verification. Once you receive that code, you can publish your listing.
By adding posts, photos, and keywords to your Google Business Profile listing, your company can rise in rankings and win at local marketing. Using a scheduling tool, like SocialPilot, makes the process even easier.
With a few simple steps, you can optimize your GBP listing and spend more time interacting with your customers.