Best New SEO Software I Use
I love tools and I have a pretty solid collection of tolls I am using daily. In this article I share my most recent SEO software that I really love.
[Disclaimer: I may be paid a commission if you buy the premium subscription after clicking some links below. Or I may be not]
All-in-One Marketing Dashboard Tools
There are a few comprehensive SEO suites that report on anything under the sun, from on-page issues to rankings and backlinks. Surprisingly, none of them is enough for me, so I use these four depending on the tasks I am dealing with:
Ahrefs
Semrush
Serpstat
Spyfu
Features
Ranking analysis, keyword research, on-page audit, position monitoring, SERP analysis, competitive analysis, backlink research
Price
$99
$99.95
$19
$39
They all have free trials, so you can totally check each of them before you decide which one you like best.
Here are my favorite features inside each platform (and actually why I have to use all of them):
Ahrefs: Advanced Keyword Research and Analysis
Ahrefs most powerful feature is their Keyword Explorer. Not only will it extend your keyword and calculate keyword difficulty (i.e. how high the organic competition is), it will also suggest related keywords. This helps a ton in finding alternative, less competitive keywords to focus on:
Semrush: Multi-Feature Position Tracking
Semrush is my very first SEO dashboard I've ever used. They have a ton of historical data and their tools are simply awesome. My favorite one is their ranking position tracker. I love the fact that you can track positions inside "Featured Snippets" and "People Also Ask" sections:
Serpstat: Keyword Clustering
Serpstat's Clustering feature is one of its kind. It helps you organize your keyword lists by relevancy, make sense of thousands of queries, understand your niche better and optimize for several keywords at a time. It's a must-use feature for every topic research because it shows you how you can optimize one page for several queries.
Spyfu: Indepth Position History
Spyfu is one of the oldest all-in-one marketing dashboards out there. Initially focusing on PPC tracking, the tool has successfully expanded into organic SEO. My by far favorite feature there is their organic history feature visualizing which pages were ranking for a give query throughout the years:
Web Analytics Tools
Finteza
Finteza is a great – and more importantly independent – web analytics suit that is both affordable and feature-rich. You can use Finteza to monitor your traffic channels, traffic quality and conversions. The tool also comes with a powerful feature set allowing you to create your own, again, independent, on-site advertising program as well as set up re-marketing campaigns.
Marketing Productivity and Collaboration Tools
I've tried hundreds tools to get organized and I've worked with many of them on a continuous basis, including Zoho, Trello, etc. Here I am featuring my currently favorite productivity and collaboration tool but I may expand the article with more options going forward.
Renderforest
Renderforest is a multi-feature content creation and branding tool that can help you create diverse content assets including videos, animations and branded mockups. Its online video creation platform is an exciting one because it can help anyone create professional videos without spending extra budgets on third-party creators or expensive software. You can create explainer videos, whiteboard videos, cartoon animations, and so much more.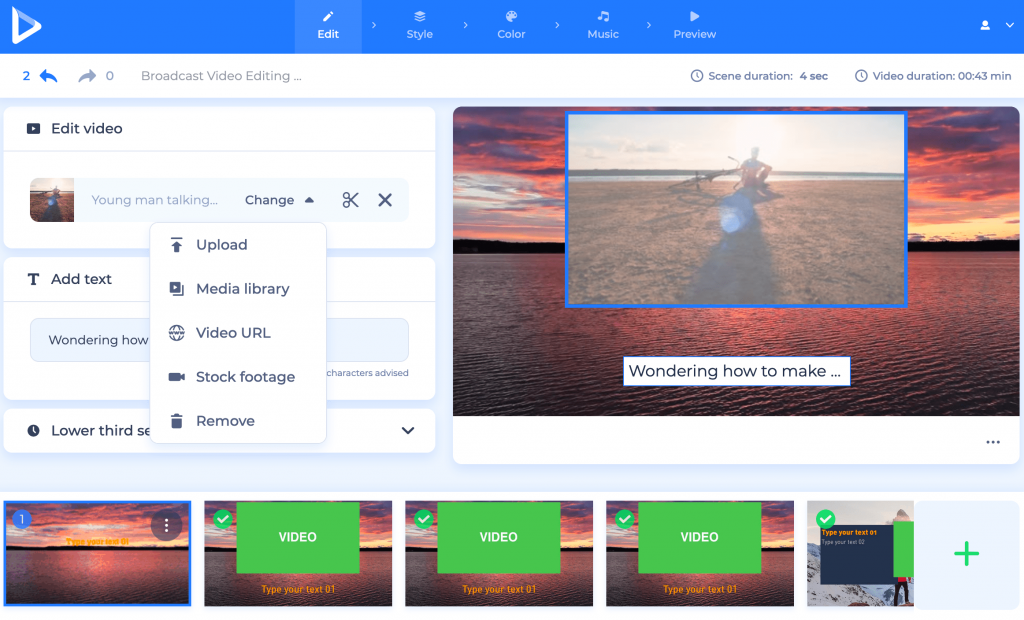 Zenkit
Zenkit is the to-do list and mindmap builder with cool collaboration features. Zenkit is your marketing productivity Swiss knife: You can use it to organize just about anything, from content marketing editorials to a project timeline. Zenkit offers several ways to organize your lists, including lists (checkboxes), tables (my favorite one because I love tables!), calendars, and Trello-style Kanban view:
You can switch between layouts with one click of a mouse, copy-paste your to-do lists from excel or doc files, share your lists with your team, etc.
Social Media Promotion Tools
Social media strategy is an integral part of any digital marketing campaign.
The only tool I am currently using for social media promotion is Viral Content Bee, and yes it's my own tool and the fact that I can totally recommend it as a secret social media marketing weapon makes me incredibly proud.
For every project I am promoting through Viral Content Bee, I make sure to:
Retweet every VCB-driven tweet (to push it into my Twitter stream)
Like as many VCB-driven updates on Linkedin, Pinterest and Tumblr
This way Viral Content Bee builds both my traffic and my social media interactions in a most meaningful way.
Branding Tools
Namify: Find a Cool Brand Name
Starting a new project? Use this cool business name generator to come up with some brandable domain names. Unlike any other name generator out there, this one utilizes Artificial Intelligence to find domain names which create cool niche associations. You will be surprised how many cool names are out there for your new site.
The tool takes care of other brand identity aspects on the fly:
It will check social media sites to find whether your chosen name is still available
It will create your logo right away
Easy to use and free!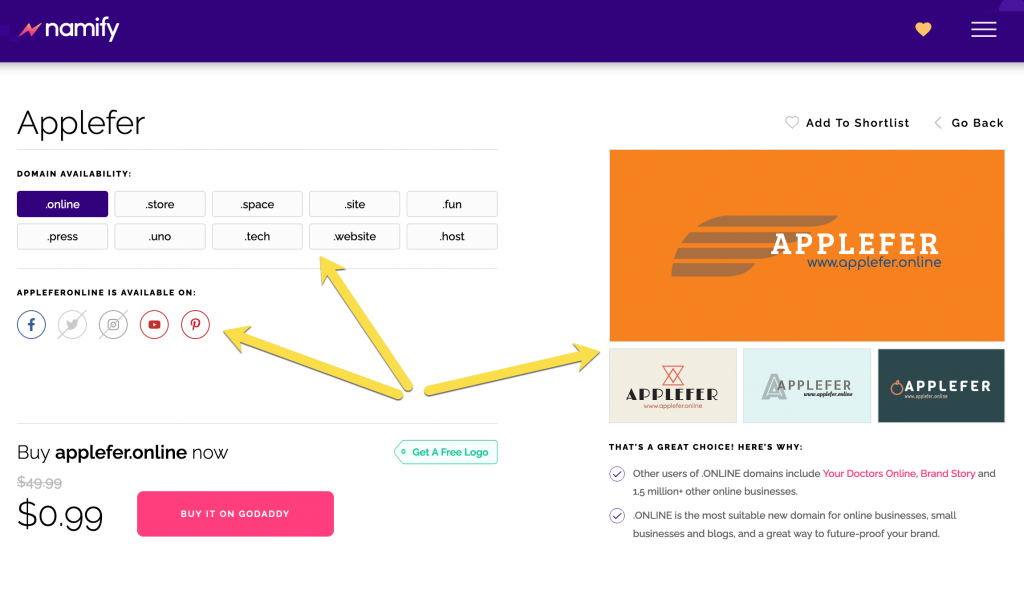 Content Marketing Tools
There are lots of tools I am using for inspiration and topic research, including Google of course. Here are two of those tools I am using on a daily basis:
TextOptimizer: Content Optimization and Research
TextOptimizer is the semantic search tool that extracts related topics and entities from Google's SERPs and lets you better research and optimize your content. It directs and empowers your writing and helps you structure your content in a most efficient way too. You can check my detailed review of Text Optimizer here.
Buzzsumo: Competition Research, Influencer Marketing, Content Inspiration
Buzzsumo is another tool that can be used in so many ways and improve so many processes.
My favorite features inside Buzzsumo are:
"Content alerts" sending you emails whenever anyone mentions your keyword (e.g. your brand name in-content)
Content Analyzer allowing you to see (recently) popular content around any keyword
Question Analyzer allowing you to see questions around any keywords that are being asked in the discussion boards (including Reddit, Quora and Amazon Q&A)
Backlink Analyzer allowing you to see people behind backlinks (there's really no alternative to that!). You can also filter backlinks by date which gives you a solid list of bloggers to reach out to:
Link Research Tools
Apart from the all-in-one SEO suites that are described above that include backlink research feature, there's a free tool that lets you explore your competitor's (or your own) backlinks: This Free Backlink Checker Tool
It works incredibly smoothly: Simply put your domain or URL and use filters to dig through the referring URLs, anchor texts, link types (follow/nofollow), etc.: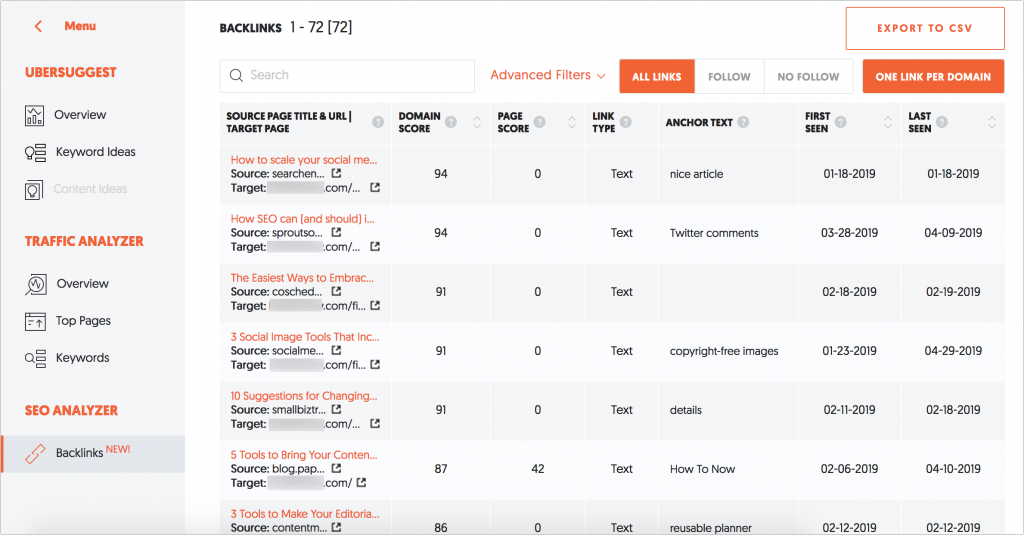 There are several more backlink checking tools that I am going to check but that one is a good place to start.
New Tools I Am Going to Dig in Next:
I don't have time to play with all the tools I'd like to, but here are a few of those that look really promising:
And which tools are you planning to try? Give me more ideas!
Please contact me if you think I may be interested in your tool
The following two tabs change content below.
I am the owner of this blog as well as Brand and Community Manager at Internet Marketing Ninjas and Founder of MyBlogGuest, MyBlogU and
ViralContentBee.com
Google Be Colorful Sign from Peter The Greeter
Here is a photo from Peter the Greeter at the GooglePlex in front of a "Be Colorful" sign that is super colorful with a lot of fun scenery around it. I assume this was for the Pride celebrations at the Google office.
He shared this on Instagram.
This post is part of our daily Search Photo of the Day column, where we find fun and interesting photos related to the search industry and share them with our readers.
Google Automatically Selecting Background Colors For Search Result Snippet Images
Over the past few months Google has been auto-selecting background colors not just for image search results and not just for shading Google Shopping Ads but also for images added to the search result snippets in Google Search.
Punit spotted this a few months ago and he shared a couple examples on Twitter that shows how Google is taking an image with maybe a light gray background and then replacing it with a green background. He has more examples but here is the bigger one.
On the left is an image of a heel on a dark green background in the Google Search result image snippet:
But if you looked at the web page, that image as on a light gray background:
Here are more examples:
More Example pic.twitter.com/MGWMSo3zXA

— Punit (@Punit6008) March 23, 2022
Pretty cool for Google to do this but I do wonder if the publishers won't like Google changing the image backgrounds like this?
Forum discussion at Twitter.
Top 6 Free Survey Maker Tools For Marketers
The number of online surveys has risen dramatically in the past decade, according to the Pew Research Center.
From short social media polls to lengthy feedback forms, it's never been easier to survey your target audience and find out what exactly they're thinking.
When it comes to free survey makers, you have plenty of options to choose from.
That's the good news.
The bad news is you have to wade through your options to figure out the best survey tool for you.
In this article, I've done that dirty work for you.
Below I outline the top six free survey makers, with a simple bulleted list of their pros and cons, so you can quickly select the best one for your needs.
But first up, the caveats.
What You're Missing With Free Survey Makers
When something's free, there's usually a catch. The same goes for free survey makers.
Free survey tools, or the free plan offered by a paid survey tool, often come with the following limitations:
Limited export options. You may not be able to export your survey data for review in Excel or Google Sheets. There may be a PDF-only export option or no export ability at all.
Limited analytics. Free survey tools often skimp on the analytics. You may be left to your own pivot tables and Excel expertise if you want to create anything fancy from your survey data.
Limited survey functionality. This runs the gamut, from a limit on how many respondents or questions you can have per survey, to only allowing so many question types (e.g., multiple-choice, long-form, etc.).
Limited extra perks. By perks, I mean those other features that make software from good to great. With survey makers, that might mean easy-to-access support, the ability to embed surveys in email or webpages, multiple user accounts, or integration with other email marketing or CRM software.
No branding. Free survey makers give you their tools for free. In return, you provide them with free brand awareness. Don't expect to be able to swap out their logo for your own. You'll probably be stuck with their branding, along with a prominent link to their site throughout the survey or on the thank you page (or both).
If any of the above is a dealbreaker for you, you should plan to drop a little dough on a paid survey tool. That's why I've also included the starting price for all six of the tools featured below.
In case you end up having to upgrade later, it's easier to do so from a tool you're already familiar with.
Top 6 Free Survey Tools
Without further ado, I present the best free survey makers you'll find today. These are listed in no particular order.
Do you live and die by your Google Drive?
Great news: Google also offers free survey software via Google Forms.
Alright, I know I just said these were presented in no particular order, but I'll openly admit Google Forms is my personal favorite. Just look at all of the features they include in their free plan!
All you need is a free Google account to get started.
Here's what's included in the free plan:
Unlimited surveys.
Unlimited questions.
Unlimited responses.
Export to Google Sheets.
Survey logic (ability to skip or trigger questions).
Ability to embed images and YouTube videos.
Ability to embed the survey on your website and share to social media.
Survey analytics, updated in real-time.
Integration with Google Docs, Sheets, Slides.
Unlimited collaborators.
Customizable survey templates.
Free branding.
What's missing from the free plan:
Enhanced security and collaboration options.
Integration with your existing Google Workplace account.
Price: Completely free. Google Workplace pricing starts at $6 per user per month.
Best for: Anyone and everyone, for business or casual use.
2. SurveyMonkey
SurveyMonkey is the online survey tool. Established in 1999, it's still the most well-known online survey software.
Despite the limitations of its free plans, SurveyMonkey continues to be popular thanks to its intuitive interface and brand recognition. Notable clients include Allbirds, Tweezerman, and Adobe.
One nice perk is that you can test out any of the paid features with your free plan. (You just won't be able to actually use it in your live survey until you pay up.)
Here's what's included in the free plan:
Unlimited surveys.
10 questions.
15 question types.
100 responses per survey.
Over 250 customizable survey templates.
Ability to embed the survey on your website.
Mobile app.
One user.
What's missing from the free plan:
Unlimited questions, question types, and responses.
Data exports – this is a biggie!
Custom branding.
Survey logic (ability to skip or trigger questions).
Team collaboration.
Advanced security (single sign-on, HIPAA compliance).
Price: Freemium. Paid plans start at $16 per month for individuals, $25 for teams.
Best for: Those who want a tried-and-true survey maker with all the features you could ask for.
Many online survey tools are designed for the general public.
Readers of Search Engine Journal will be happy to hear that there's a survey tool created just for us. Typeform was built specifically with marketers, UX researchers, and business owners like us in mind.
Here's what's included in the free plan:
Unlimited surveys.
10 questions per survey.
10 responses per month.
Basic question types.
Basic reporting and analytics
Ability to embed the survey on your website.
Integrations with MailChimp, HubSpot, Trello, Google Sheets, Zapier, and more.
What's missing from the free plan:
Unlimited questions and responses.
Custom thank you screen.
Custom branding.
Survey logic (ability to skip or trigger questions).
Team collaboration.
Ability to accept payment.
Ability for survey respondents to upload files.
Integration with Facebook pixel and Google Tag Manager.
Price: Freemium. Paid plans start at $29 per month.
Best for: Enterprise users, UX researchers, and marketers hoping to track customer behavior.
Zoho Survey is part of the same Zoho suite of apps that caters to sales, HR, IT, finance, and virtually any kind of business user you can think of.
Given their tenure creating SaaS software for business, their survey tool is just as robust as you might expect. Customers include big names like Netflix, Amazon, Facebook, and Change.org.
Here's what's included in the free plan:
Unlimited surveys.
10 questions per survey.
100 responses per survey.
Ability to embed surveys in email or website, or share to social media.
Export to PDF.
250 survey templates.
Password protection and HTTPS encryption.
One user.
What's missing from the free plan:
Unlimited questions and responses.
Ability to export to XLS or CSV.
Survey logic (ability to skip or trigger questions).
Custom branding.
Team collaboration.
Real-time responses.
Multilingual surveys.
Integration with Google Sheets, Tableau, Shopify, Zendesk, Eventbrite, and others.
Price: Freemium. Paid plans start at $25 per month.
Best for: Zoho users, or anyone who needs an extra level of security for their surveys.
Alchemer is an advanced survey maker developed for the enterprise client.
Paid features include custom coding so you can customize every single element of your survey, from the survey URL to the form logic.
They stand out among free survey makers for being one of the few (besides Google Forms) to offer unlimited questions and Excel exports in their free plan. Clients include Disney, Salesforce, Verizon, and The Home Depot.
Here's what's included in the free plan:
Three surveys at a time.
Unlimited questions.
100 responses.
10 question types.
Export to Excel.
Customizable templates.
What's missing from the free plan:
Unlimited surveys.
Unlimited responses.
Unlimited question types.
Survey logic (ability to skip or trigger questions).
Custom branding.
Ability to embed surveys in websites.
Export to PDF, PowerPoint, or Word.
Ability for survey respondents to upload files.
Survey analytics and reporting.
Ability to accept payment.
Price: Freemium. Paid plans start at $49 per month.
Best for: Enterprise users needing to create long surveys with advanced logic and question types.
With over 10,000 templates, Jotform takes the cake as the survey maker with the most form templates on our list.
Jotform also stands out for letting you accept payments with the free plan (although you're limited to 10).
This popular survey maker includes clients as wide-ranging as AMC and Nickelodeon to Redfin and the American Medical Association.
Here's what's included in the free plan:
Five surveys.
100 questions per survey.
100 responses per survey.
Ability to embed surveys in email or website.
Export to PDF or Excel.
10,000 survey templates.
What's missing from the free plan:
Unlimited surveys.
Unlimited questions and responses.
Survey logic (ability to skip or trigger questions).
Custom branding.
HIPAA compliance.
Price: Freemium. Paid plans start at $29 per month.
Best for: Users who want a template for every kind of survey possible.
Which Survey Tool Will You Use?
There truly is a survey maker for everybody.
The above options are all solid choices. Which one works for you may depend on your organization's needs and your personal preferences.
Take advantage of the free trials and see which one you like best.
More Resources:
---
Featured Image: Prostock-studio/Shutterstock
if( sopp != 'yes' && addtl_consent != '1~' ){
!function(f,b,e,v,n,t,s) {if(f.fbq)return;n=f.fbq=function(){n.callMethod? n.callMethod.apply(n,arguments):n.queue.push(arguments)}; if(!f._fbq)f._fbq=n;n.push=n;n.loaded=!0;n.version='2.0'; n.queue=[];t=b.createElement(e);t.async=!0; t.src=v;s=b.getElementsByTagName(e)[0]; s.parentNode.insertBefore(t,s)}(window,document,'script', 'https://connect.facebook.net/en_US/fbevents.js');
if( typeof sopp !== "undefined" && sopp === 'yes' ){ fbq('dataProcessingOptions', ['LDU'], 1, 1000); }else{ fbq('dataProcessingOptions', []); }
fbq('init', '1321385257908563');
fbq('track', 'PageView');
fbq('trackSingle', '1321385257908563', 'ViewContent', { content_name: 'top-5-free-survey-makers', content_category: 'marketing digital-marketing-tools' }); }