Google Stan Dinosaur Dressed For Pride Month
Stan is the Google dinosaur that has lived outside of the main Google headquarters for a couple decades or so. Looks like Stan took off his mask and got dressed up for Pride Month.
Here is a photo I found on Instagram but also Louis Gray of Google posted a photo on Twitter:
Stan is all decked out for Pride Month. Looking fabulous, Stan! pic.twitter.com/iLO1hgzLMV

— Louis Gray (@louisgray) June 15, 2022
This post is part of our daily Search Photo of the Day column, where we find fun and interesting photos related to the search industry and share them with our readers.
Google Says They Are Communicating About More Algorithm Updates
Another point from the Google NYC SEO Meetup the other night was that Danny Sullivan at Google said Google has been more active about communicating about algorithm updates now than ever before. Danny said Google communicates more often about algorithm updates, which is why it feels that there are so many more updates now than previously.
Danny's talk was a recap of his Google blog post over here but with a lot of SEO humor added.
Lily Ray tweeted this comment:
Google isn't doing more updates, they're just sharing more information about the updates publicly

They share this information so you can know if any traffic volatility was due to a Google update

via @dannysullivan @Marie_Haynes got a little shout out ☺️ pic.twitter.com/ZtwubFiO3n

— Lily Ray 😏 (@lilyraynyc) June 27, 2022
So yea, Google has been communicating more about Google updates. It was funny because Danny referenced one of my stories about there being way too many updates.
But Danny said Google intentionally starts and stops these bigger updates so that they do not overlay. Danny said this before, saying "We also have been working to keep different update types launched separately from each other when we can, so creators have a better sense of changes."
We have updates all the time. We'll certainly have more spam updates, more core updates, likely more of other types. We also have been working to keep different update types launched separately from each other when we can, so creators have a better sense of changes.

— Danny Sullivan (@dannysullivan) November 4, 2021
Like, I had to make this infographic once to plot all the updates Google communicated about – this wasn't even all of them:
One point, Google is doing more updates, which Danny did confirm later on in his talk. In short, Google did 5,000 updates in 2021, 4,500 updates in 2020, 3,200 updates before that, and so on. So yes, Google is doing more "updates" – however Google defines updates.
So yes, there are more updates but Google is also communicating about more updates.
Forum discussion at Twitter.
How Can You Improve Your Blog's Content with a Paraphrasing Tool?
Paraphrasing tools are getting extremely popular, especially among bloggers. The reason is that these tools allow them to rewrite some of the old stuff with very high accuracy.
Uniqueness is the most important factor that determines the search engine ranking of your website. Most search engines determine the worth of your site by looking at the content that you post.
This is why you need to make sure the material you write in your blog contains zero plagiarism. For this purpose, you can use paraphrasing tools. These tools allow you to come up with unique ideas, words, and phrases that you incorporate into your blog to increase readability as well as reader engagement.
What is a Paraphrasing Tool?
A paraphrasing tool can be used to generate new text to explain existing ideas, concepts, or themes. These tools take minutes to convert your old text into an entirely new form having new phrases, words, and synonyms while keeping the original theme intact.
These tools improve the readability, grammar, and other key aspects of your text to make it coherent and consistent. These tools use AI technology to make your content unique and to improve the tone, style, and other features.
There are many reasons to use these tools and in this next section we will take a look at some of these
1. Complete Analysis of Your Content
Before rephrasing your content, these tools analyze it completely to determine a few key things. These include word count, readability, spelling and grammar mistakes, and the main theme and tone of the content.
This complete analysis allows these tools to generate highly accurate content that you can post on your blog without fearing plagiarism.
These tools are very accurate when analyzing your content and that allows you to trust these completely to perform paraphrasing for you.
2. Changing Content Tone
The tone of your content is what separates it from others and engages your audience. Paraphrasing tools can rewrite your material while giving it a pleasant and consistent tone.
These tools can make adjustments that make your content easy to read, understand, and digest. By working on the tone of your text, these tools make it SEO-friendly which leads to better search engine ranking.
3. Better Content Flow
When writing content for your SEO or blogs, you need to make it seem like it's connected and flowing in a consistent manner. Writing about different stuff randomly makes it seem all over the place which leaves a bad impression on your readers.
Paraphrasing tools can help you improve the flow of information that you provide in your content. This makes it more concise and understandable.
Some Ways in Which Paraphrasing Tools Can Improve Your Blogs
Paraphrasing tools are really a blessing for bloggers and general content writers. These tools save time and offer very high accuracy.
Here are some of the main ways in which such tools can help you write plagiarism-free blogs
1. Replacing Words with Synonyms
The main reason these tools are effective is that they offer a number of synonyms for every word in the content. You can use these tools to replace single words, phrases, sentences, or even paragraphs.
The paraphrase online turns your entire text into something new which makes it free from plagiarism of every type.
2. Improve Spellings and Grammar
Paraphrasing tools improve the grammatical errors and inconsistencies in your original text. These tools highlight lines that need to be changed and you can use some other tool to eliminate these errors.
These tools also identify and remove spelling mistakes as well. The final content that you get from these tools is immaculate in every way. It is consistent with the main theme and each sentence flows from the last one.

3. Save Time and Energy
Paraphrasing without a tool can take so much of your time and energy. You need to consult various sources to learn new words and ideas to incorporate into your text which is very time-consuming.
Paraphrasing tools help you save a lot of time by rewriting more than 1000 words in a matter of a few minutes. Doing this yourself can take several hours which you can spend on something more important.
4. Cost-Effective
Hiring content writers to write unique content for your blog is quite expensive. You have to spend a lot if you hire someone else to rewrite content for you and there is still no guarantee that the contest will be plagiarism-free.
You can find several free paraphrasing tools online to do that for you. These tools require no registration or login which means you can just go online and convert the text instantly.
5. Creative Writing
Most paraphrasing tools can help you write creative content. These tools take your words and phrases as prompts and use AI to write creative material that you can post on your blog.
This is especially helpful for a writer suffering from writer's block. These tools can inspire them to look at things from a different perspective. This improves their skill as a writer and enhances the quality of their content.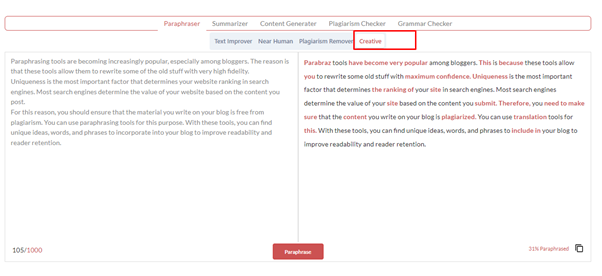 Final Thoughts:
So, these are some of the few ways in which paraphrasing tools can help you improve the content of your blogs. These tools can help you write better material that has zero grammatical errors and is more engaging.
Without these tools, you will only be wasting your time and money with little to get in return. Paraphrasing tools are being used both by academic and non-academic persons who often find it hard to rewrite stuff due to having limited vocabulary and a grasp of grammar.
Now you know what are some of the major benefits of using paraphrasing tools when writing content for your blogs. These tools can lead to better content for your blogs that is both search engine friendly and engaging.
We hope this stuff helps and we suggest you to use these tools for improving your skills as a blog writer.      
10 Key Steps To Ranking Higher In Google Maps
You're searching for a lunch spot in an unfamiliar neighborhood, or you need a mechanic to assist with an unexpected flat tire.
Where do you look?
If you answered Google Maps, you're not alone.
These days, many of us are turning to Google Maps to discover local businesses and make more informed buying decisions.
So how can local businesses rank higher in the place consumers are increasingly looking to purchase local products and services?
Here are ten steps to take in order to rank well, drive more traffic and secure more customers via Google Maps.
1. Claim And Complete A Google Business Profile
The first, crucial step in establishing visibility in Google Maps is claiming and optimizing your Google Business Profile (GBP – formerly known as Google My Business or GMB).
You can do this by simply searching for your business name on Google or Google Maps and verifying your listing if you have not already done so.
Once you have a listing and are logged into your Google account, you can now edit it, even from directly within the search results.
Being a Google property, GBP provides a primary signal to Google of your business' existence – and the information here is assumed to be accurate and up to date.
Google will cross-reference these details with those it finds on your website and in other local directories and resources; more on the importance of these in a moment.
2. Post Linked Content (Including Photos)
After you've claimed your GBP listing, your work is only partway done.
Google rewards active businesses with higher visibility in Google Maps, so it's important to post regular updates to your GBP profile.
These updates may and should include special offers, hosted events, links to relevant blog posts, or general business updates.
Where possible, incorporating photos into your updates is also encouraged, as visuals are more likely to boost viewer engagement in terms of shares or clicks.
You should also be including links in your posts, ideally to primary product or service pages on your website.
3. Optimize Your Web Presence For Local Organic Search
If you want to rank well on Google Maps, you should ensure your web presence, including your website and external content, is optimized for your local audience.
You can start by performing a local SEO audit to identify where you need to focus your attention from a keyword, content, and linking perspective – as these are the three primary components upon which a presence is built.
Your website needs to be properly structured to enable Google to easily crawl and index your content, and the content within your site needs to be rich with relevant, locally-oriented, intent-driven keywords and logical internal and external links to the answers your audience is searching for.
Google rewards websites that lead searchers to answers in as few clicks as possible.
Websites must also load quickly and provide seamless navigation, regardless of device.
This is particularly important at a local level, as searchers increasingly begin their quests on their phones.
4. Use Local Business Schema
When it comes to structuring content, and especially business details, Google and other search engines prefer standardization – which has led to the development of schema.
Local Schema enables businesses to wrap code around their content to make it easier for Google to crawl and index.
Local business schema covers many of the same business details captured in a Google Business Profile, which Google will naturally cross-reference.
The easier it is for Google to validate your location, the more likely your business is to show up prominently in Google Maps.
5. Embed The Google Map On Your Contact Us Page
While it's not explicitly stated that embedding a Google Map in your website will make a difference in terms of where you rank in Google Maps, it's not far-fetched to assume this is Google's preferred format.
Here again, Google is able to ensure a consistent user experience for its searchers, which should likewise be the aim of any business looking to please its customers.
6. Mine And Mind Your Reviews
Any business can create a GBP listing, ensure its basic business information is up to date, and post plenty of relevant, local content.
However, another critically important factor in determining if, and where, a local business shows up in Google Maps is customer reviews.
Google pays close attention to both how many reviews your business obtains, and how active it is in responding to those reviews, regardless of whether they're positive or negative.
Any business naturally wants to limit the number of negative reviews it receives and all negative reviews should be dealt with swiftly.
This can actually become a valuable way of displaying your business' commitment to customer service.
While there are many places customers can leave reviews online, including Facebook, Yelp, and other industry-specific review sites, reviews on GBP profiles will carry more weight when it comes to Google Map rankings.
Consider proactively asking your customers for reviews soon after you've successfully delivered a product or service when a presumably positive experience is top of mind for their customers.
There are services available to help automate review requests (via email or text) once certain on or offline customer actions have been completed (e.g. appointment completed, invoice paid, etc.) and review management across multiple sources through a central dashboard.
Automation can save busy local businesses a lot of time, and ensure positive reviews flow in on a regular basis.
7. Update Your Local Listings/Citations With Your NAP
The three most important pieces of directional information on your GBP, website, and across the web are your Name, Address and Phone Number or NAP.
It's critical for both Google and your audience to have your NAP consistent and accurate across all of these sources.
These references to your business from third-party sites are also called citations.
To find and ensure your NAP is up to date, you can start by simply searching your business name and noting all of the places your business details can be found.
Check each instance and reach out to each directory or website owner to update this important contact information, as needed.
There are also free and paid automated local listings services, which will enable you to identify and update your NAP, along with other important business information like your website URL, services, or even relevant images, from one central location.
8. Build Local Backlinks
Backlinks or inbound links are effectively an extension of our NAP strategy, whereby you look to have relevant, local third-party websites link to your primary website pages.
Backlinks can validate your business from both local and product/service perspectives.
If you maintain listings with links in local directories, you will want to ensure those listings are in the proper categories, if category options are offered.
Ideally, these links to your website are "follow" links, which means Google will follow and recognize the source of the link to your content.
Most directories realize the value of "follow" links and therefore charge for inclusion, but you should also look for opportunities to secure links from other non-paid sources such as relevant partner, industry or service organization sites.
9. Engage With Your Community
Just as Google rewards GBP activity, it also pays attention to how active a business is within its community as a means to establish its local presence and authority.
Businesses noted to be engaging with local service organizations (e.g. Chambers of Commerce, charities, or sports groups), sponsoring local events, or partnering with other prominent local businesses are naturally deemed to be a thriving part of the community.
Engagement can include publishing and/or promoting linked content e.g. event announcements, partner pages tied to these partner organizations, and, of course, physically engaging and perhaps getting mentioned/linked in local news stories or other publications.
10. Pay Attention To The SERPs And The Long Tail
If you are going to optimize any aspect of your local web presence, you will want to monitor your progress in terms of whether or not and where you rank within Google Maps and the regular search engine results pages (SERPs) based on the keywords you are hoping to be found for.
You can perform your own manual Google searches (preferably in Incognito Mode and while not logged into a Google account), or you can choose from a number of rank monitoring tools, many of which enable you to specifically filter out Map rankings.
When considering which keywords to follow, be sure to consider and include local identifiers and qualifying keywords such as "near me," "best," and "affordable" – e.g "auto body shops near me," "best auto body shop in Barrie," or "affordable auto body work."
Three, four, and five-keyword phrases like these are considered long tail, which means they may not have significant local search volume – but these volumes can add up, and any local business is well advised to focus on topical groups of related keywords rather than chasing more competitive phrases.
In time, if you've truly established your business' local authority, the short tail top rankings will follow.
Put Your Business On The Google Map
So now, with your laundry list in hand, be like Mike and put your local business on the map.
Establishing your authority and expertise online is not really all that different from how it's always been in the real world, but it can take time, as any real relationship should.
Google rewards those businesses that provide the best answers to their customers' questions, deliver solid products and services, take an active role in their local community, have their customers say nice things about them, and provide a high level of customer service at all times.
If this describes your business, get out there and do it.
More resources:
---
Featured Image: BestForBest/Shutterstock
if( sopp != 'yes' && addtl_consent != '1~' ){
!function(f,b,e,v,n,t,s) {if(f.fbq)return;n=f.fbq=function(){n.callMethod? n.callMethod.apply(n,arguments):n.queue.push(arguments)}; if(!f._fbq)f._fbq=n;n.push=n;n.loaded=!0;n.version='2.0'; n.queue=[];t=b.createElement(e);t.async=!0; t.src=v;s=b.getElementsByTagName(e)[0]; s.parentNode.insertBefore(t,s)}(window,document,'script', 'https://connect.facebook.net/en_US/fbevents.js');
if( typeof sopp !== "undefined" && sopp === 'yes' ){ fbq('dataProcessingOptions', ['LDU'], 1, 1000); }else{ fbq('dataProcessingOptions', []); }
fbq('init', '1321385257908563');
fbq('track', 'PageView');
fbq('trackSingle', '1321385257908563', 'ViewContent', { content_name: 'rank-higher-google-maps', content_category: 'local-search seo-strategy' }); }