There is something to be said about the Bay Area's hip hop presence. Sure- it isn't the ATL or Chicago. San Francisco might not have "hip hop soul" but it does know a thing or two about pleasing everyone. And in the words of Tupac- "California, knows how to party." Hip-hop has a definite presence in SF. Here is a list of the hottest clubs in the city for the people who would take some solid lyrics and a beat over a synthesizer. So if you're more of a twerker than a first bumper, read on to find out the best hip-hop nightclubs in San Francisco.
Arena SF
Mission statement: "I DO IT FOR THE RATCHETS". Imported straight from Ktown LA, this new Mission hotspot is bumping Thursdays – Saturday nights. No cover at Arena SF – but the line can definitely get long. Bottle service is recommended – and prices are quite reasonable. Bottle service tends to sell out here so we recommend reserving a couple days in advance!
The Grand
Between Latino Fridays and Freestyle Saturdays, you are all set at The Grand. A large Vegas-inspired nightclub, The Grand takes the cake for the big and bold when it comes to hip-hop clubs in the city. It isn't too far from AT&T Park and close enough to Uber quickly to one of the other SoMa hip-hop hotspots. Sign up for free guestlist or book tables at the Grand using the Discotech app!
Holy Cow
Holy Cow is a total retro Los Angeles feel club. Polished oaky wooden tables and thin industrial-feel rails perfect for holding on to while you drop it low characterize this Folsom street club's renovation. Just a heads up- Holy Cow is said to be overpriced, but sometimes you can't expect to put a price tag on a wild night out. Guestlist and table service available on the app.
The ROC
If being surrounded by families and tourists on the Alcatraz tour just won't cut it (we don't blame you), head over to The ROC. This Alcatraz-themed bar and club brings the naughty to Fisherman's Wharf. Expect a line out of the door on their most popular event, The ROC Fridays, drawing in tourists and locals alike who want to enjoy hip-hop music blaring from their state-of-the-art sound system. Browse upcoming events on the Discotech app!
Origin SF
You may not have known, but the owners of The Grand have brought another gift to San Francisco's hip-hop scene, and it's name is Origin. If you love the aesthetic of a stylish lounge and you don't want to go all the way to SoMa for a nightlife experience, this Western Addition/ Fillmore venue is spot on. The decor is trendy, much like the boutique hotels of SF, which could be why they often refer to Origin as a "boutique nightclub." They host fun talent and bump hip-hop, top 40 and EDM. RSVP to get on the guest list or book bottle service at Origin SF using the Discotech app!
LUV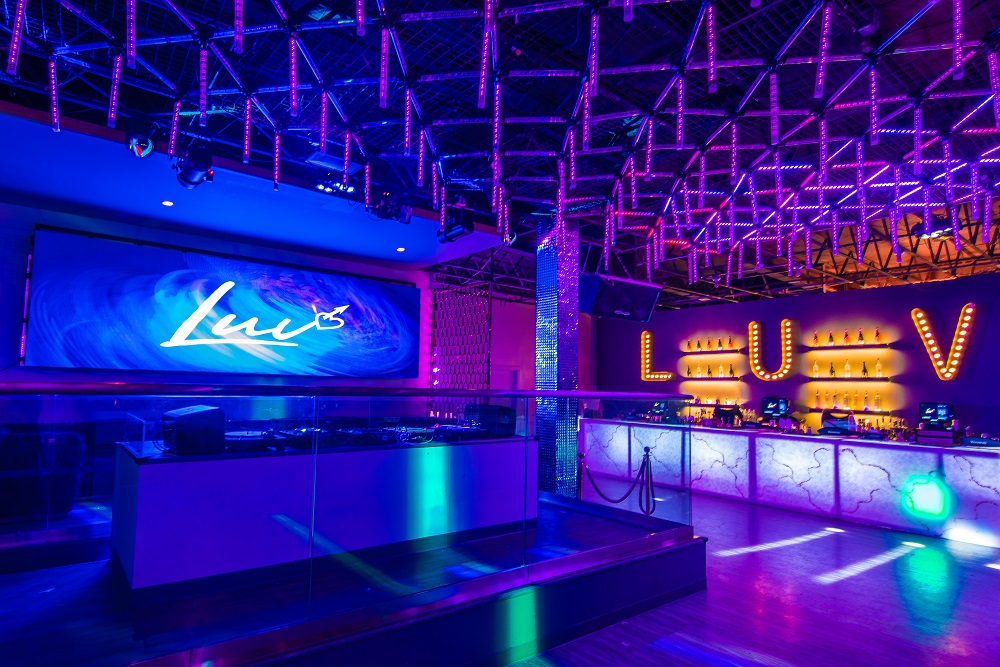 As the newest and the most anticipated nightclub in San Francisco, LUV has delivered a breakthrough experience to the San Francisco nightlife scene. Whether you are a dance junkie, an avid party goer, or an occasional clubber; they have everything you could want or need to fall in LUV with their venue! Those with more exclusive tastes are able to take in the sounds of the DJ from one of our VIP tables in 3 different sections – either in the elevated section overlooking the dance floor, across from the DJ, or in front of the massive 15 foot LED screen. Enjoy a VIP experience like nowhere else in the Bay Area. Browse upcoming events on the Discotech app! 
Vanity
Vanity is the premier San Francisco nightlife destination with all of the elegance and class you could think of. Vanity offers deluxe amenities including VIP Bottle Service with VIP packages and varying themes to satisfy every indulgence. With 12,000 square feet of space, sensuous ladies on staff and all the VIP amenities you could dream of. RSVP for our guest list or reserve your table for upcoming events here!
San Francisco Nightclubs FAQ
What time do San Francisco Nightclubs typically open?
The nightclubs open around 10 PM.
What time do San Francisco Nightclubs typically close?
Most close at 2 AM, but a couple will stay open later until 3 or even 4 AM.
What is the dress code like at San Francisco Nightclubs?
Guys can wear nice jeans and a form fitting plain t-shirt or a nice button down shirt. Girls can wear jeans or a comfortable but stylish dress if they prefer. Of course guys and girls can never go wrong with dressing up even more – there is no such thing as overdressing when it comes to nightclubs.
How can I book bottle service for San Francisco Nightclubs?
You can book table service using our free mobile app. Or, if you're on desktop you can use our webapp.
How much is bottle service at San Francisco Nightclubs?
Table minimums can get pretty expensive, but every venue is different. The best way to find out is to use our app.
What are the best clubs in SF that play EDM music?
The best EDM clubs are Audio SF, Halcyon, Temple SF, 1015 Folsom, Great Northern and August Hall. There are other venues that often feature EDM artists including Bill Graham Civic Auditorium, Warfield, and The Midway.
What are the best clubs in SF that play hip hop music?
Origin, Arena SF, The Grand, Holy Cow, Vanity, Luv.
What are the best after hours spots in San Francisco?
The best after hours spots in SF are Public Works, or The End Up.
https://d34ojwe46rt1wp.cloudfront.net/wp-content/uploads/2018/05/sfskyline.jpg
682
1566
Discotech
/wp-content/uploads/2020/03/Discotech-Black-Logo-300x138.png
Discotech
2019-05-10 11:00:30
2022-08-05 02:34:08
The Best Hip-Hop Clubs in San Francisco